The last few weeks have been...interesting, to say the least. Lots of reading, lots of writing, lots of teaching, and enough cross-stitching to take up the rest of the time. (I finally learned how to do a French knot!)
Anyway. So what has happened of academic import since my last post?
1. I was nominated for the highest award our department gives out. Waiting to hear back on that one.
2. I have a second member for my dissertation committee!
3. Despite the fact that I have not yet taken preliminary exams (I'm taking them in the spring), I was granted permission to go ahead and start my dissertation hours. So I'm signed up for a directed reading (which is going to help my dissertation research) and should soon be signed up for dissertation hours.
4. This means I AM DONE WITH COURSE WORK, Y'ALL. This in and of itself is a terrifying thing, because in the last ten years I have spent all of six months out of the classroom (as a student). And now...well, as I've told others, I see the light at the end of the tunnel. It may be the light of the oncoming train of my dissertation, but it's a light, damn it!
Not that I haven't done some reading. I managed to pick up Liz Carlyle's
Tempted All Night
and Eloisa James'
Duchess by Night
, both on clearance (and hey, a romance novel for three bucks? I'm all about that). I'd never read anything by either of them before, and they were decent examples of the genre.
Eloisa James is of particular interest. Her real name is Mary Bly (according to Wikipedia), and she's a tenured professor of English at Fordham University. I can't help but wonder how this translates to different problems, and reading through her Wikipedia entry, I came across the following:
"For several years Bly's second career remained a secret, and she disguised herself by wearing contacts instead of her normal glasses when she attended functions as Eloisa James.
[

4

]
After her first
New York Times Bestseller
in 2005, Bly realized that her readers liked her writing regardless of its genre, and that by keeping her identity a secret she was implying that she was ashamed of her work and of her readers.
[

9

]
At a February 16, 2005 faculty meeting, Bly outed herself to her colleagues, revealing her alter ago and offering copies of her novels to her fellow professors. Once she had officially "come out", she submitted an op-ed to
The New York Times
defending the romance genre."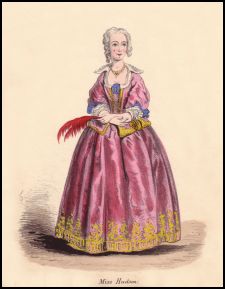 I do know that she's been extremely kind to a friend of mine who is planning on writing her dissertation on romance novels, which is enough to endear an author to me. And her writing is entertaining. Is she the queen of Regency romances? Well, no, and that's partly because her books are written a little before the Regency era, and I came to the conclusion that there's a very good reason that most historical novels are written in the Regency era--it's easier to get the heroine's clothes off. In the Georgian era that James is writing in, the heroines wear clothes like this:
This involves a lot of petticoats, corsets, panniers, and some rather heavy, uncomfortable wigs, often powdered (and quite nasty). By the time you get through all of the layers, I imagine that the romantic mood is pretty much over. So it's no wonder that James' heroine spends most of her time in male dress. On the other hand, Regency era dress looks like all of those you see in adaptations of Austen movies.
And I still like Stephanie Laurens better, despite feeling like I need to be holding some kind of solidarity with my colleagues.